Jeanne Barker July Open:
15th July 2015
We hope you all enjoyed the July Open Meet on Sunday 12th July at Parkside Pools. As you will be aware, we named the event in honour of long-serving coach and volunteer, Jeanne Barker. The Jeanne Barker Open Meet hosted 16 Clubs from around the region with over 400 swimmers competing overall. CoCSC had 90 swimmers participating in the event.
We were very lucky to have Jeanne there to present the medals to the swimmers which gave the Club the opportunity to thank her for her huge contribution to swimming not only at the Club but also the wider region. Our President and Olympian, Christine Illman and Head Coach James Freezer, supported by Top Squad swimmers Susanna Fraser and Levin Graf, presented Jeanne with a framed programme cover showing some vintage pictures of her early swimming years alongside one of the Meet's gold medals.
The success of the event reflected the hard work and dedication of our wonderful Open Meets Coordinator, Kate Coleman, over the past few months supported by our Committee, coaches and volunteers – thank you all.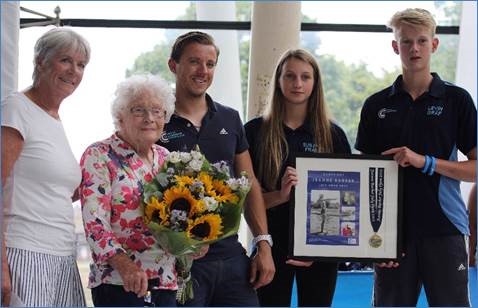 Results Round-up from Coach Simon
Cameron Wolstencroft led the way for CoCSC winning four gold medals in the 200m individual medley and the 200m, 100m and 50m freestyle. Maxim De Wildt and Thomas McCubbin were just behind with three golds each. Maxim won the 13-year-old 200m freestyle, and the 100m and 50m breaststroke. Thomas won the 15+ age group category 50m freestyle, 100m breaststroke and 50m butterfly.
Matt Titman, Zara Keegan, James Rumeblow, Levin Graf, Jasmine Seamarks, Polly Fish and Susanna Fraser all came away we two golds each. Matt won 200m freestyle and 100m backstroke in the 13-year old category, Zara won the 100m and 50m breaststroke in the 12-year-old category, James won the 200m and 100m freestyle in the 15+ age group category, Levin won the 50m breaststroke and 50m butterfly in the 14-year-old category, Jasmine won the 100m breaststroke and 50m freestyle in the 15+ age group category, Polly won the 100m and 50m breaststroke in the 11-year-old category, Susanna Fraser won 100m freestyle and the 100m backstroke in the 15+ age group category.
Finally, Zhiyuan Shao, Guy Semple, Robbie Brunton, Daisy Wilson, Hannah Puckett and Natasha Howard all came away with one gold medal each. Zhiyuan won the 200m Individual Medley in the 9-year-old category. Guy Semple won the 200m individual medley in the 11-year-old category. Robbie Brunton won the 100m butterfly in the 15+ age group category. Daisy Wilson (10), Hannah Puckett (13) and Natasha (15+) all won gold in their 200m individual medley races.
---