Cambridge show their competitive edge at the ASA EAST Regional Championships 2015
By CoCSC
15th July 2015
WEEKEND 1: Weekend 1 of the ASA East Region Championships was held at Luton in May. Unfortunately due to illness, injury and exams, Cambridge's entry numbers were lower than in previous years but despite the reduced numbers the swimmers in attendance put in some solid performances. With the 'age at' date changing to the 31st December, rather than age on the day of the meet, it was always going to be hard to judge this year with some swimmers gaining benefits and others feeling a disadvantage, however the club had some top performances over the weekend led by a trio of females in Lauren Hall, Emily Biggs and Millie Emmans.
Lauren achieved bronze in the 50m and 200m backstroke and made the final of the 50m freestyle placing 6th. Millie Emmans had a fantastic weekend gaining bronze in the 200 butterfly and making finals in the 400 freestyle (5th), 400IM (3rd), 200 IM (4th), 200 freestyle (6th) and 100 butterfly (8th). Emily Biggs came away with bronze medals in the 50 and 100 breaststroke, while making the finals in the 200 breaststroke (4th) and 200 IM.
For the men, Tom Sarah continued his impressive season with a 3rd in the 400 IM and finals in the 100 (7th) & 200 breaststroke (5th) and 200 IM.
Others to make finals were Luke Westwood (50 breaststroke: 7th), Graeham Douglas (400 IM: 8th) and Susanna Fraser (50 backstroke: 7th)
WEEKEND 2: Weekend 2 was held at UEA's Sport Village in Norwich. Even though it was a long 3-day meet over the Bank Holiday, there was a great atmosphere as the 'Radio One Big Weekend' was erupting across the road from the pool.
Oliver Cashin was the high point of the meet. Oliver made huge gains, achieving silver medals in the 50m, 100m and 200m breaststroke.
Matthew Titman also gained a silver in the 50m butterfly and just missed out on a medal in the 50m freestyle, coming in a close fourth place. He also achieved other finals appearances included 100m freestyle (7th) and 50m backstroke (6th).
Cameron Wolstencroft came away with a bronze in the 400m freestyle and made finals in the 50m freestyle (5th), 200m freestyle (6th) and 100m freestyle (7th).
Millie Emmans returned to complete her schedule with bronze in the 800m freestyle. Harvey Skellern made the final in the 200m freestyle finishing 8th. Overall the Cambridge team came away from regionals with 4 silver and 9 bronze medals and 31 finals. A good result for a small but competitive team.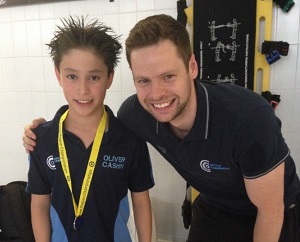 Coach Simon Morley and Oliver Cashin
---